SNEAPPA 2018 Fall Meeting
will be held on
November 15
, 2018 at
UMASS Amherst
in Amherst, MA. Check back soon for more details and registration information.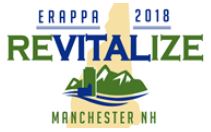 The annual ERAPPA conference is a premier educational event for facilities professionals in education where the bar is raised each year to make it even better. You will leave ERAPPA 2018 inspired and enlightened to grow professionally with a vast amount of new knowledge and some great new friends. You do not want to miss it!
The ERAPPA Board of Directors, in an effort to further expand our educational opportunities for facilities teams at our member schools, has approved a Business Partner Committee to administer technical education opportunities via webinars on topics relevant to facilities operations and management.
Link to ERAPPA website for more information on the webinar lunch series:
www.erappa.org/news/690-lunch-and-learn-webinar-announcement